RACE ROUTE
---
You choose the route. we suggest you run slightly over the set distance to ensure you get the sufficient distance recorded. Please abide by the Highway code or the countryside code depending on where you are running.
---
LOCATION
---
You choose the start line and run the required distance. We suggest running slightly over the distance to ensure all devices record it.
---
PHONE TRACKING INFORMATION
---
Download the the Racemap app.
The app can be download from-
Appstore - https://apps.apple.com/ie/app/racemap/id640797527
Playstore - https://play.google.com/store/apps/details?id=racemap.de
Please then follow the link emailed to you activate and register yourself for online tracking.
Alternatively find the race you are registered for in the list of events on the Racemap App.
and nsert your individual key that has been emailed to you.
Race Day.
15 minutes before race start open the Racemap App and hit live tracking. The big green button.
To see if you are live on the map click the watch now button. Then put your name in search bar, if your name is a dark colour you are online. If our name is greyed out please check the following, -
Ensure you have cell coverage where you are.
Ensure your location services are on. (This can be done in settings).
If this is all good come out of the App and refresh and try again.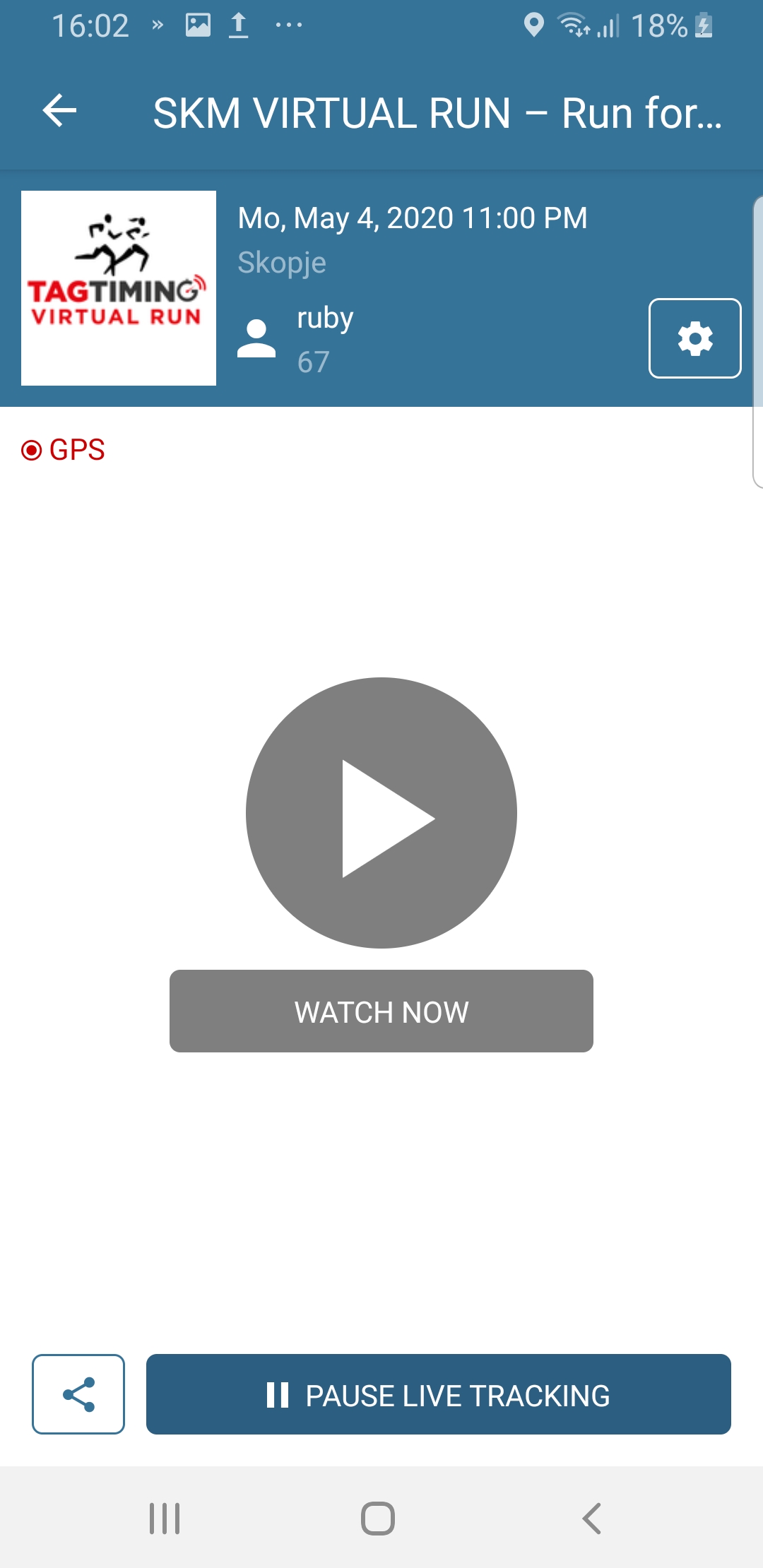 Your name should be highlighted in dark as can been seen at the bottom for the name Ruby.
If all is good, please stow your phone safely on your person and go for a run.
For a back up for the first few goes we do advise that you set your sports watch as well as this can be uploaded after the event. You then still appear on the leader board and the map for replays of the event.
The event can always be viewed at http://www.chiptiminguk.co.uk/
---
UPLOADING OF GPX, KML OR TCX FILES
---
We recommend that you run with a sports watch or a phone with a sports app that is just using GPS and is not relying on a solid phone signal. This data can then be uploaded here, https://racemap.com/upload
---
KEY INFORMATION
---
All events start at a specific time and run for the duration of the race.
For example, a race may start at 10am, that is the official start time and you should be on your start line at that time ready to go.
Your total race time goes from 10am until the specific distance is complete. The time is based on elapsed time (not moving time), therefore any stopping for toilets or drinks will be included in your race time, just like race day. (we will accommodate some leniency on start times if required)
Competitors can then upload a GPX, KML, ot TCX file as soon as they finished their 5k.
We always suggest running with a GPS tracking app or sportswatch as these do not require a solid phone signal.
Alternatively or as well as, competitors can be tracked using the Racemap app on their phones (this does require a good phone signal at all times). If neither of these options work for you, please send a screenshot and time to results@chiptiminguk.co.uk
All maps and results get automatically updated to the leader board available at www.chiptiminguk.co.uk, where certificates can be printed out once times are verified. This will be 12 hours after the start of the event.
---
ADDING MANUAL TIMES AND SCREENSHOTS
---
Please email time and screenshot of elapsed time to results@chiptiminguk.co.uk Ensure it has elapsed time on screenshot.
---
TOP TIPS FOR LIVE TRACKING
---
Run in a good signal area.

Stay on public roads as much as possible.
Check phone for live tracking prior to setting off.
Ensure your phone is fully charged.
---
---